Jomella Watson-Thompson, PhD
---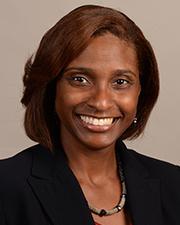 Director, Center for Service Learning
Associate Director, Center for Community Health and Development
Associate Professor, Department of Applied Behavioral Science
She/Her/Hers
Contact Info
Strong Hall, Room 150
Lawrence
1450 Jayhawk Blvd
Lawrence, KS 66045
---
Biography
—
Dr. Jomella Watson-Thompson is the Director of the Center for Service Learning, and an Associate Professor in the Department of Applied Behavioral Science at the University of Kansas. She is also an Associate Director with the Center for Community Health and Development. Dr. Jomella Watson-Thompson is a leader in community-engaged scholarship. Her research uses a community-based participatory approach to address community health and development issues including adolescent substance abuse and community and youth violence prevention.
Dr. Watson-Thompson supports community-engaged scholarship using participatory approaches to address social determinants or factors that may contribute to disparities, particularly for marginalized groups and communities. She examines factors, including educational attainment and access to resources and supports, which may contribute to disparities. She researches and promotes collaboration and community-academic partnerships as an approach to foster sustainable change and improvement in communities. She has developed extensive service-learning and community engaged scholarship partnerships in Lawrence and the Kansas City metro area.
Dr. Watson-Thompson has been the recipient of numerous awards related to her contributions to support community engaged scholarship and service-learning, including the Ad Hoc Group Against Crime Community Guardian Award, the Character Counts Award with the Pelathe District Heart of America Council Boy Scouts of America, the Ivanhoe Neighborhood Council President's Award, Excellence in Community Based Teaching & Scholarship from the Heartland Campus Compact, Excellence in Service Learning from the University of Kansas, and the Ernest A. Lynton Award for the Scholarship of Engagement.
Dr. Thompson has numerous publications in the area of community engagement and community capacity-building and received numerous federal, state and local funding awards. She is as an Associate Editor with Behavior and Social Issues. She also has extensive experience providing training, technical support, consultation, and evaluation for community-based initiatives. She attained a Ph.D. in Behavioral Psychology and a Masters of Urban Planning from the University of Kansas, and a B.A. in Urban Studies from Jackson State University.